Kristine Angeltvedt
Case Study: a Remote Full-stack Developer to Pento in just 2 weeks
Jan 16, 2020 8:54:00 PM
remote work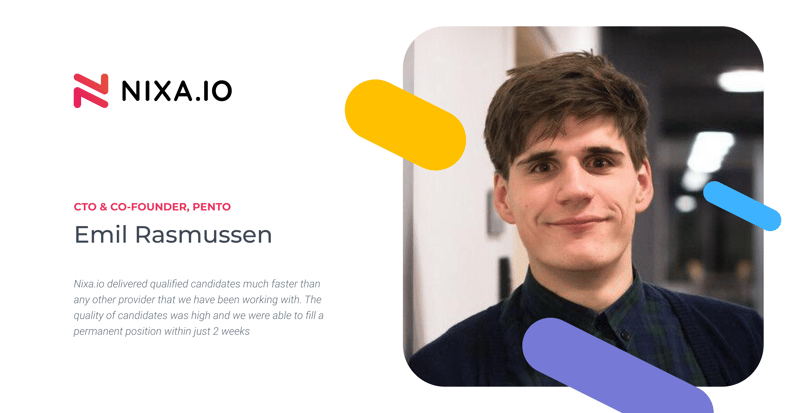 Meet Emil! He is the CTO and Co-founder of Pento, a SaaS platform that makes payroll digital and flexible for everyone. They are a small, fast-growing, remote-first team that are working out of 5 different cities in Europe. Emil and his co-founder had just landed a seed round of funding when they got in touch with Nixa.io in 2019.

The Challange
Emil was looking to scale his engineering team with both senior and junior full-stack developers but was struggling to attract enough qualified candidates. Most of the applications he received were lacking the necessary skills or the experience level requested. To be able to attract enough qualified candidates in the shortest amount of time possible — he decided to team up with Nixa.io.


The Solution
After mapping out the requirements and the ideal candidate profile, we presented Emil with a list of 7 pre-qualified candidates from our talent pool that matched his needs. After reviewing the candidates, Emil decided to set up interviews with four of these candidates and after interviewing these twice over two weeks — he decided to bring Iman onboard the team 🎉
The Candidate
Iman is an experienced full-stack developer that had been looking for a remote opportunity for 4 months before joining Nixa.io. He has 3 years of experience working as both a software engineer and CTO. Throughout his career, he has been working with several programming languages like React.js, Python, Go and Java. Iman signed with Pento only a couple of weeks after he registered on the platform and was ready to start the job just two weeks after the employment contract was signed. We are super happy that we've been able to facilitate this match and we can't wait to follow both Pento and Iman on their journey together!
Subscribe for more related content